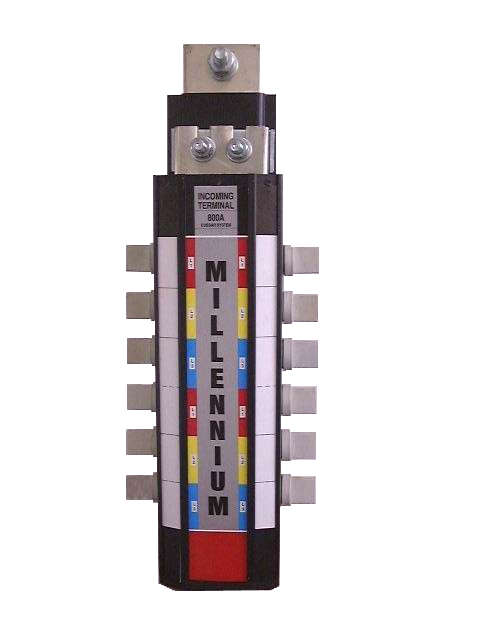 A totally encapsulated, fully insulated, 400A to 800A busbar system.
The 800A system is certified 50KA for 1 second and 36KA for 3 seconds.
The 400A system is certified 40KA for 1 second and 25KA for 3 seconds.
Standard models are 3 pole (BT) and multipole (BM) systems.
Other options, and special configurations, are available on request, but may be subject to a minimum order requirement..
Colour coding for all outgoing connections.
The small and compact size (less than 100 mm x 100 mm in cross section) with the length only dictated by the number of outgoing devices, mean that additional space is available within the switchboard or the cubicle size can be reduced by up to 25%.
The MillenniuM Block will accommodate most major manufacturers MCCB's without the need for expensive adaptors. Thus saving not only cost, but time in installation.
Incoming terminals are designed to accept up to 800A incoming interconnections from fused switches, MCCB's, isolators or direct connections to main cubicle busbar systems 35 mm, 30 mm and 25 mm outgoing terminal centres as standard.
Other centres and mixed configurations may be available on request.
Suitable for BSEN/EN/IEC 60439-1 1999 form 1 - 4 switchboard construction.
Outgoing neutral terminals on BM models eliminate the need for expensive, and time and space consuming, wiring of remote neutral assemblies.